This was from my most recent extended road trip last October where I hit Chicago, Gary, Detriot, Toronto, and Buffalo and shot with a model or two in my favorite abandoned places around each city. I try to take two 10-14 day road trips a year, my next one being planned for late August where I will driving around the South Eastern US, or possibly to St Louis and back. I travel alone (visiting friends along the way), sleep in my car, rarely shower, and eat lots of junk food - it is an amazingly odd yet fun way to travel.

City Methodist is a phenominal location in a phenominal city full of ruins - Gary, Indiana. For anyone that is newly interested in urbex and would like to see a bunch of amazing buildings of different types all within a few blocks of each other that are all easy to access (aka walk in and photograph), i highly recommend a trip to Gary regardless of where you are coming from,- its worth it. Gary is about a 15 hour drive from me but I made the trip twice in 2007 :)

The model in the picture ifsStormey out of Chicago: it is from my "gown" series where I wrapped the models up with lots of random material at the locations and safety pinned it all into "gowns". I really like this photo because I think the model and the building both shine equally and one is not competing with the other to dominate the photo.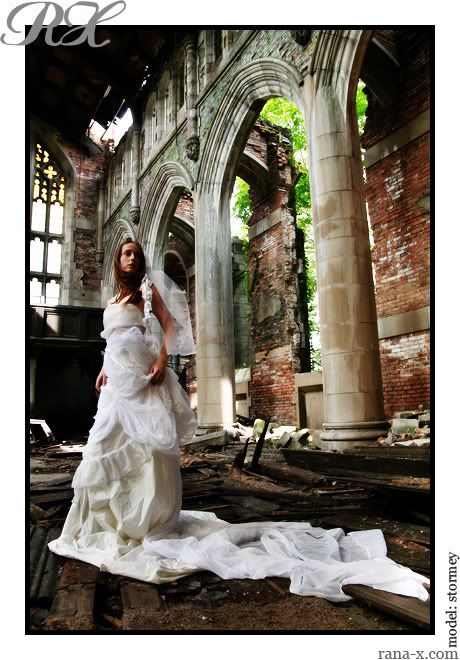 For more info/photos of City Methodist Church:
Preservation site w/ lots of Gary info: http://www.preserveindiana.com/pixpages/nw_ind/orrcitymeth.htm
Info, pics, history, videos: http://www.faithfabric.com/tbh/gary/citymethodist.htm
City Methodist photos on Flickr: http://www.flickr.com/photos/tags/citymethodist/
Nicole Rork's photo & info: http://www.detroitruins.net/gallery/citymethodist.php